include $_SERVER['DOCUMENT_ROOT'].'/ssi/elements/header.php'; ?>
services
JetLabs are a London-based new media solution provider. We specialise in corporate projects for the world wide web. Over half of our clients conduct all or most of their business on the web.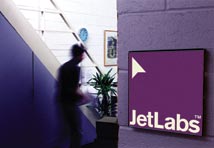 work philosophy

We believe a web site must not just be an electronic brochure, it can have a significant impact on the way business is conducted. Any web site can open new marketing, sales and communication channels – we use the internet to improve the products and services our clients provide.

Our designers can create new corporate identities for start-ups, or seamlessly integrate any of our work with an existing corporate strategy.

marketing : banner ads

With many years experience in the internet business we can provide you with a custom built, creative marketing strategy in the promotion of websites both online and through traditional media.

We can design, produce and place Banner Adverts on other sites and site engines that will increase awareness of your company and traffic through your site. When producing the banner adverts we include an administration area which will give you a monitoring system to determine how effective the placement was on particular sites.

hosting

Our site hosting and maintenance packages include server space rental, security, and an inclusive allowance for any required site modifications and updates on demand. We also provide a comprehensive site visitor data log which can be viewed online. This shows the number of visitors, number of pages viewed, search terms used to find your site, the browsers used and gives a breakdown of site traffic per day, per time of day and per day of week as well as the countries and companies where your site visitors are coming from.

We also submit all our clients' websites to over 100 of the top search engines worldwide every month to ensure the site is extremely visible online, as well as providing access to keyword analysis software to discover search result effectiveness.

marketing : on and offline

We can write, produce and send out press releases to relevant websites, communities and online magazines who would be interested in your product or service. We will work closely with you to ensure that the right or preferred sites and publications are approached.

We can produce a press pack to be sent out to raise awareness of your site and gain editorial coverage in a range of print media publications. The press pack consists of a press release, a CD-Rom with screen grabs from the site and relevant transparencies. These are sent to a selection of newspapers and magazines identified as suitable for your company.
We can design and place print ads in any publication. Rate cards available on request.